For your upcoming corporate head shot here are a few tips for you on what to wear for corporate head shots. This is just a guideline as you know best what you look good in:
Think of your audience for the photo, for men that might help you determine whether or not you wear a jacket and tie. For corporate head shots it is possible to go with or without a Jacket.
For both men and women it's a good idea to avoid large or loud patterns. Solid color shirts work best, perhaps light blue, lavender or something similar and if you wear a jacket a white shirt will go with any tie. Also try on your clothes beforehand if possible to make sure it fits and sits well on you. Also on the day crisp shirts and presentable clothes are a must. There's nothing worse than wrinkled clothes causing havoc with shadows.
On the day will be working with a dark gray background like the one in the photos above so if you choose not to wear a jacket, a lighter color shirt, but not white is recommended. Without a jacket you can go with a more patterned shirt, but not too big. Finer patterns are recommended.

I strongly recommend not to wear a polo shirt. Shirts with button up fronts are always more presentable.

For ladies, corporate attire opens up more options. If going with a corporate jacket with a business shirt or blouse the same rules apply as with above. However, dresses and tops for women open up a can of worms with neck-lines. See below for a good general guide. Bear in mind, this is a general guide and it's important to wear whatever you think makes you look good. The only thing I really recommend against is a plunging neckline.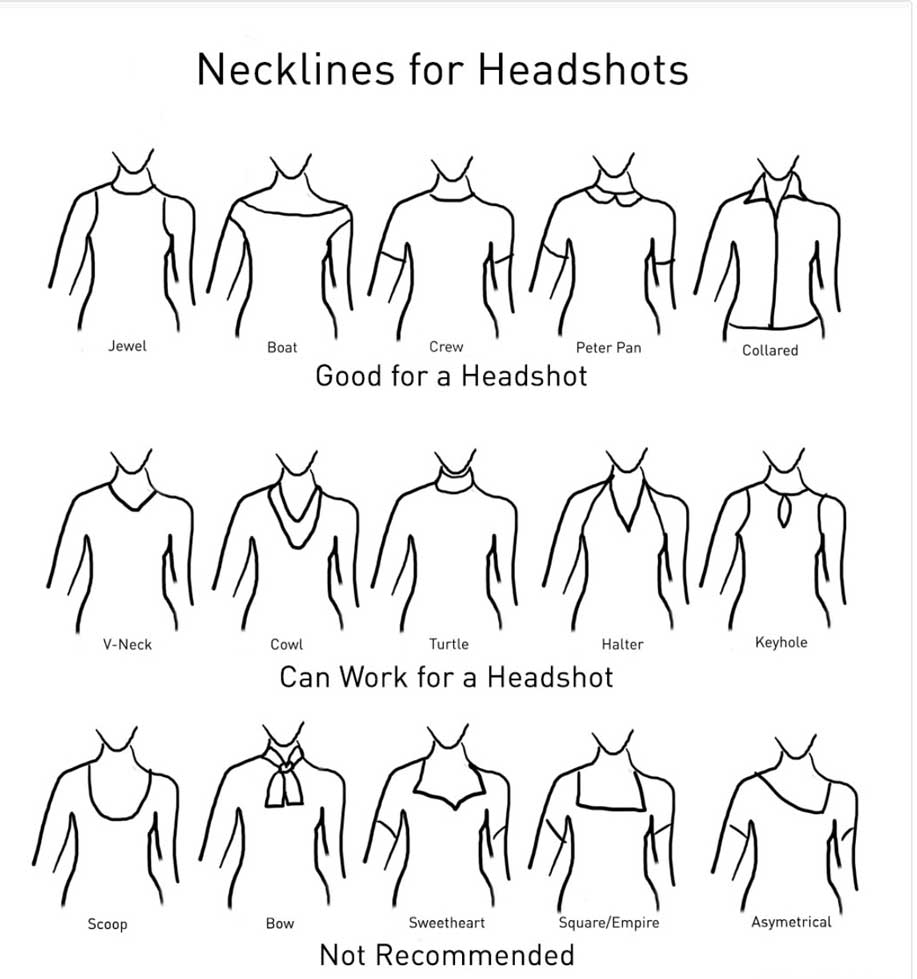 Jewelry is good. A general guideline would be to go with shorter as opposed to longer chains on necklaces. Again, you know what looks good on you and works with the outfit and your personality. Try to avoid big and loud.
As far as colors go, ladies can generally get away with more pops of color. As we are using a dark background I recommend to stay away from black. Also solid white will be too contrasty. So any mid-tone colors will work. Reds can also work well with a grey background.
The most important thing with your head shot is to feel good in front of the camera. You know best what makes you feel good in front of the camera and it's your personality we are capturing. I hope you enjoy it.
Here are a couple of links to articles I think are helpful: https://leadersinheels.com/style/styling-tips/what-to-wear-for-business-headshots/
https://kelicommheadshots.com/choosing-right-wardrobe-headshot/

I look forward to photographing you soon.
Steven Graffham